Meyle 514 137 0001 Hydraulic Filter Set Automatic Transmission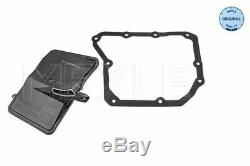 MEYLE 514 137 0001 HYDRAULIC FILTER SET AUTOMATIC TRANSMISSION. Part Number : 514 137 0001.
GET THE CORRECT PART FIRST TIME. PLEASE MAKE SURE YOU CHECK THE NOTES SECTION TO THE LEFT OF COMPATIBILITY TABLE. IF IN ANY DOUBT AT ALL PLEASE ASK SO YOU GET THE CORRECT PART FIRST TIME. Products Available in the Meyle Range.
The MEYLE brand supplies its customers with more than 21,000 extremely reliable and durable spare parts manufactured at our own production facilities or by trusted production partners. MEYLE boasts a highly diversified product range. Whether steering and suspension components, rubber-to-metal parts, brakes, damping components, cooling systems, filters, drive components, electric and sensors MEYLE is synonymous with top-grade quality-tested spare parts. MEYLE premium quality for vehicle classes from S to XXL. Whether passenger car, van or commercial vehicle parts MEYLE is always a smart choice.
Because products of the MEYLE brand stand for outstanding quality and enhanced performance. MEYLE parts engineered and quality-tested in Germany. MEYLE-HD parts: Spare parts with an extra touch of quality. Ever shorter engineering cycles and cost and material restraints on the part of the vehicle manufacturers frequently rule out the most sophisticated solution. No wonder that the number of recalls is on the increase and more and more components out of the production series fail prematurely. And this is just where MEYLE-HD parts come into play.
Their design has been optimised compared to OE solutions and they simply last longer. MEYLE-HD parts: the better solution.
The MEYLE brand name instantly calls to mind HD for a very good reason: MEYLE-HD parts mean improved reliability and durability thanks to engineering innovations. Experts at Wulf Gaertner Autoparts AG have re-engineered OE designs to optimise part performance.
HD parts feature a more robust design, higher-grade materials or optimised rubber-to-metal geometries. And this is why many MEYLE-HD spare parts outperform their counterparts from original equipment suppliers. They rightly bear the MEYLE-HD Quality seal and the HD (High Durability) supplement to their part number.
MEYLE-HD parts simply last longer. Their technically optimised and reinforced designs make them more durable and reliable compared to OE components. MEYLE parts for passenger cars. The safety and operational reliability of a motor vehicle hinge on the quality and durability of its components.
The MEYLE range of products features a wide variety of components. Spare parts from A to Z, from Alfa Romeo to Volvo, from minicars to top-of-the-range luxury models.
Passenger car spare parts from A to Z. > Stabilizer links > Full-rubber bearings > Control arms > Tie rod ends > Axial joints > Rear axle struts > Steering-joint boots > Repair kits > Stabilizer kits > Control arm kits > and many more.
> Brake discs > MEYLE Platinum Discs (PD brake discs) > Brake pads > MEYLE Platinum Pads (PD brake pads) > Brake drums > Brake shoes (also pre-assembled) > Brake hoses > Wear indicators > Wheel cylinders > Main brake cylinders > and many more. > Wheel hubs > Wheel bearings > Constant-velocity joint assemblies > Steering knuckles > ABS sensor rings > Drive shaft assemblies > Boots (also as kit) > and many more.
> Shock absorbers > Strut mounts > Repair kits, suspension strut bearings > Coil springs > Dust protector kits > Rubber buffers > Pressure accumulator > Boots > and many more. > Oil filters > Air filters > Cabin air filters (particle and activated carbon filters) > Fuel filters > and many more. > Water pump > Expansion tank > Radiator hoses > Thermostats > and many more. > Flex discs > Cardan shaft bearings > Engine mounts > Transmission mounts > Bushings > Bearings, transfer gear > and many more.
> Crank position sensor > Control units (radiator electric fan, glow plug system, heating/ventilation) > Glow plugs > Multifunction relays > Steering-column switch > Brake light switch > In-cab blower > Ignition coils > and many more. > Oil change kits (automatic transmissions) > V-ribbed belts > Idlers/guide pulleys > Belt tensioners > Tensioner pulleys > Oil pans > and many more.
> Coolant additives > Hydraulic oil > Engine oil > Transmission fluid > and many more. > Funnel, oil dipstick > Pedal pads > Radiator bleeder screw/valve > Oil filler caps > Crankcase breather valves > Oil separators > Wiper blades > Gas springs > Window lifters > and many more. The number of vans used for commercial purposes is steadily increasing. Parts and systems are subjected to extreme stress: many driven kilometres at top speed with excessive loading are typical operating conditions under which they have to perform well. As a result, there is an urgent demand for durable, robust components.
Thats where MEYLE parts available for a wide variety of applications come into play. Van spare parts from A to Z. The complete range of van spare parts in our online catalogue. Flex discs, cardan shaft bearings, engine/transmission mounts, bushings, belt pulleys. Shock absorbers, coil springs, strut mounts. Cabin air filters, oil filters, air filters, fuel filters, transmission filters. Relays, sensors, ignition modules, switches. Control arms, stabilizer links, tie rod assemblies and individual parts, ball joints, wheel bearing kits, wheel hubs.
Brake discs and platinum discs, brake pad sets, brake drums, brake hoses, brake shoe kits, wheel cylinders, wear sensors. Water pumps, fan clutches, fan motors, V-ribbed belts, radiator hoses, thermostats, flanges, expansion tanks, radiator antifreeze. Joint kits, boot kits, belt drive, tensioner and pulleys.
MEYLE parts for commercial vehicles. Commercial vehicles are subjected to particularly high stress. Heavy loads, long distances and tight schedules mean that they are almost continually on the road.
For this reason components should be serviced at regular intervals and wear and tear parts replaced to avoid long and costly downtimes. MEYLE parts are perfectly geared to meet any commercial vehicle repair needs, in particular for models from MAN, Mercedes-Benz, DAF, Volvo, Scania, Renault and Iveco.
MEYLE at the Truck Motorsport Event of the Year. Wulf Gaertner Autoparts supports the "tankpool24 racing team" and the team of Vice-European Champion Antonio Albacete (CEPSA Team) at the FIA European Truck Racing Championship. The CEPSA team used at every race exclusively MEYLE brake discs and pads.
King pins (also as repair kits). Cylinder sleeves and repair kits. Drive, clutch and gearbox parts. We pride ourselves on a quality service and we are happy to address any concerns.
The item "MEYLE 514 137 0001 HYDRAULIC FILTER SET AUTOMATIC TRANSMISSION" is in sale since Thursday, December 20, 2018. This item is in the category "Vehicle Parts & Accessories\Car Parts\Transmission & Drivetrain\Gearboxes & Gearbox Parts". The seller is "dusty789blue" and is located in Leatherhead. This item can be shipped worldwide.
Item condition: New
Brand: MEYLE
Manufacturer Part Number: 514 137 0001
EAN: 4040074181430
Manufacturer Restriction: AISIN WARNER
Number of mounting bores: 9
Product Class Description: Drive train/Transmission
Product Description: Transmission/Clutch
Reference OE/OEM Number: 0703304 703304 93177682
Transmission Type: 5-Speed Automatic Transmission
Transmission Type_1: AF33-5
Transmission Type_2: AF23-5